Try this easy, 5-ingredient air fryer calamari recipe as delicious appetizer or weeknight dinner idea. No need to deep fry with this crunchy, Asian-inspired calamari recipe!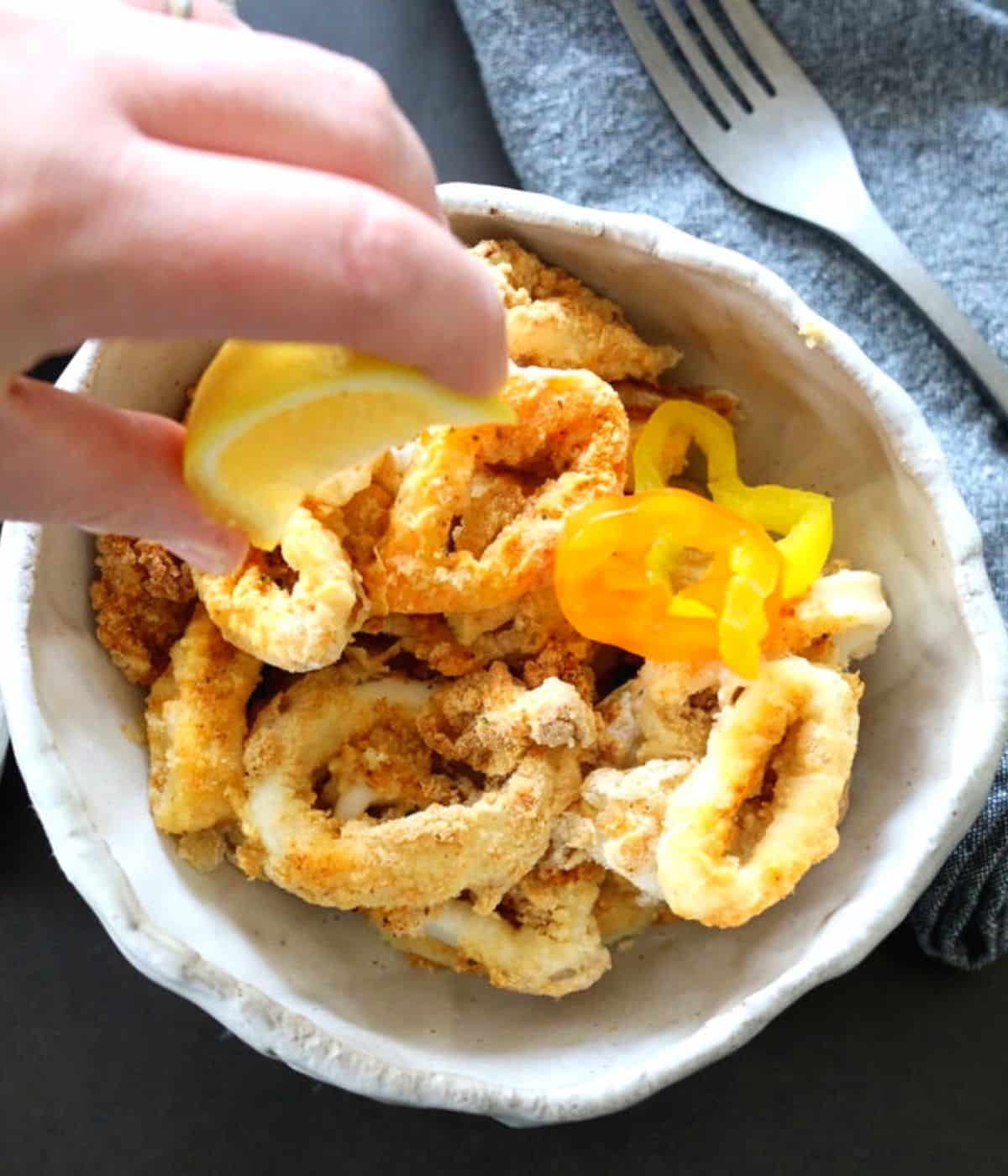 How to make air fryer calamari
This healthy, air fryer battered calamari recipe has only 3 basic steps:
Add calamari and peppers to a large bowl.
Pour on whisked eggs and cream.
Place soaked rings in a freezer bag full of panko breading, close and shake.
Air fry calamari rings without overcrowding (one layer).
How long will calamari keep in the fridge?
Freshly cooked seafood, like our air fryer tilapia, will keep for up to two days in the refrigerator in a sealed airtight container.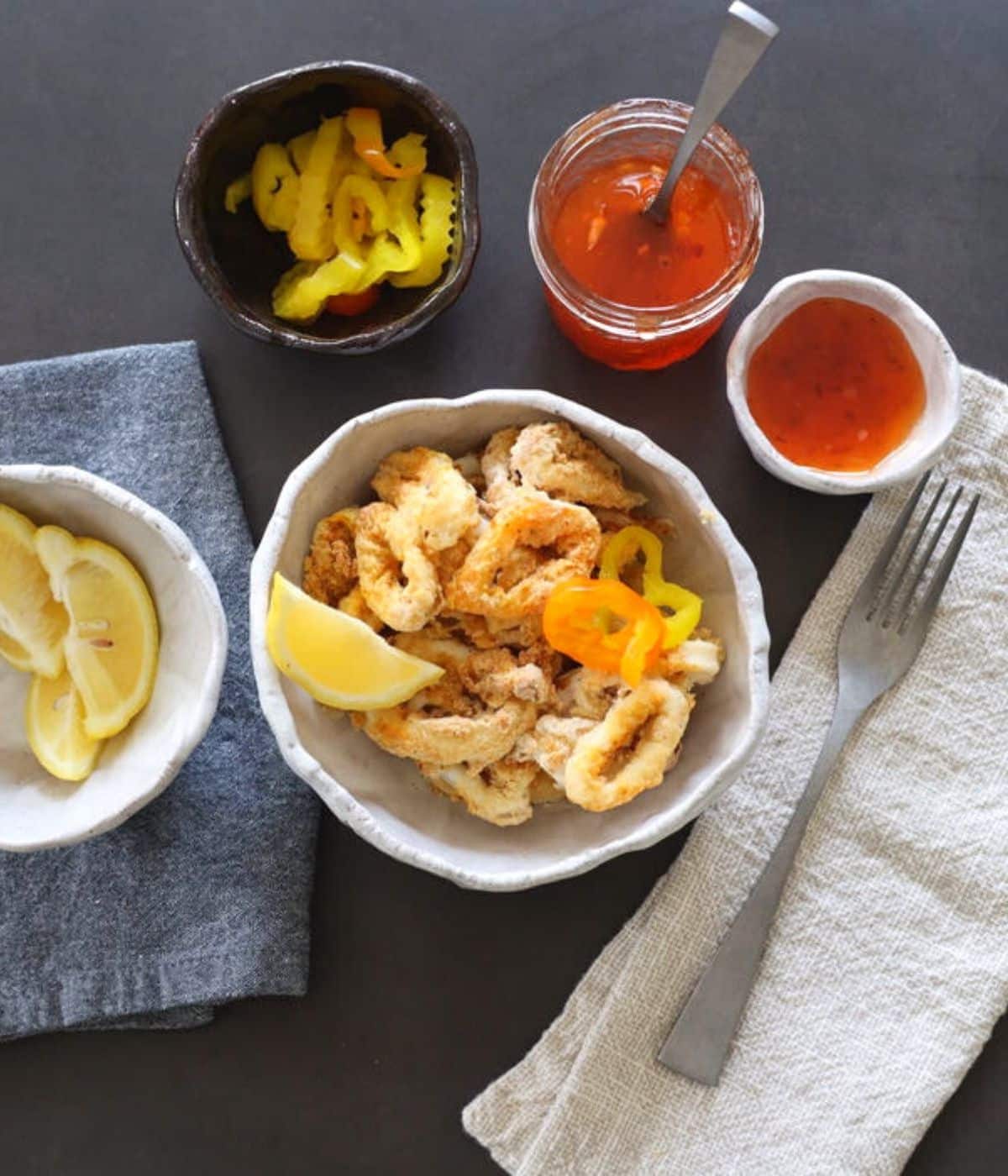 Is calamari healthy?
Squid is high in vitamin B12, iron, copper, potassium and phosphorus.
Calamari helps support a healthy immune system.
How to reheat calamari
To reheat, thaw overnight in the refrigerator first.
Next, air fryer at 400°F for five minutes or bake at 350 degrees Fahrenheit for up to 10 minutes, or until a crisp, tempura texture.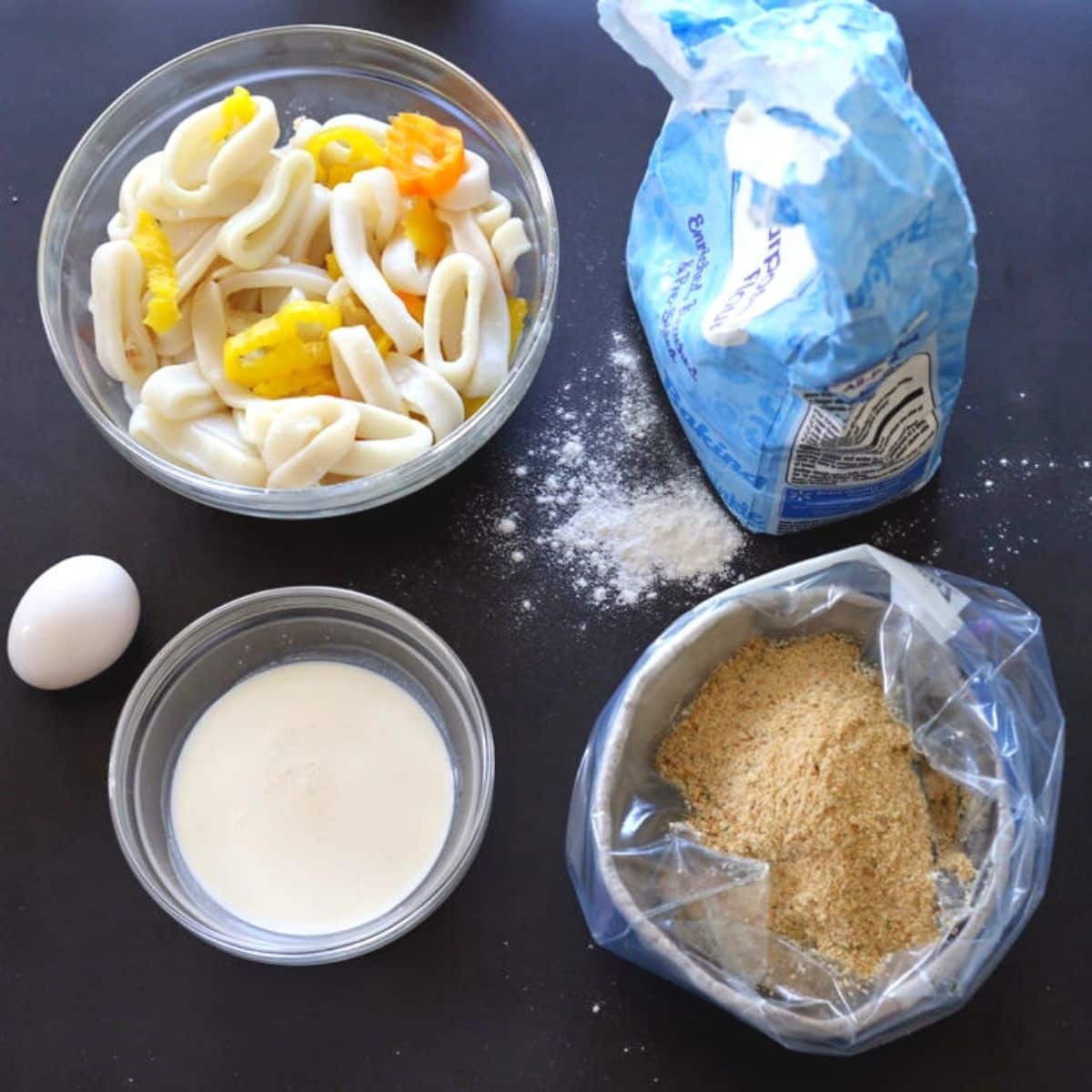 How to bake calamari rings in the oven
Bake the rings at 400°F for 10 minutes. You'll want to flip and bake the squid rings another 10 minutes.
How to freeze calamari rings
Calamari is best frozen when sealed in a zipper container or freezer bag and will last up to a month.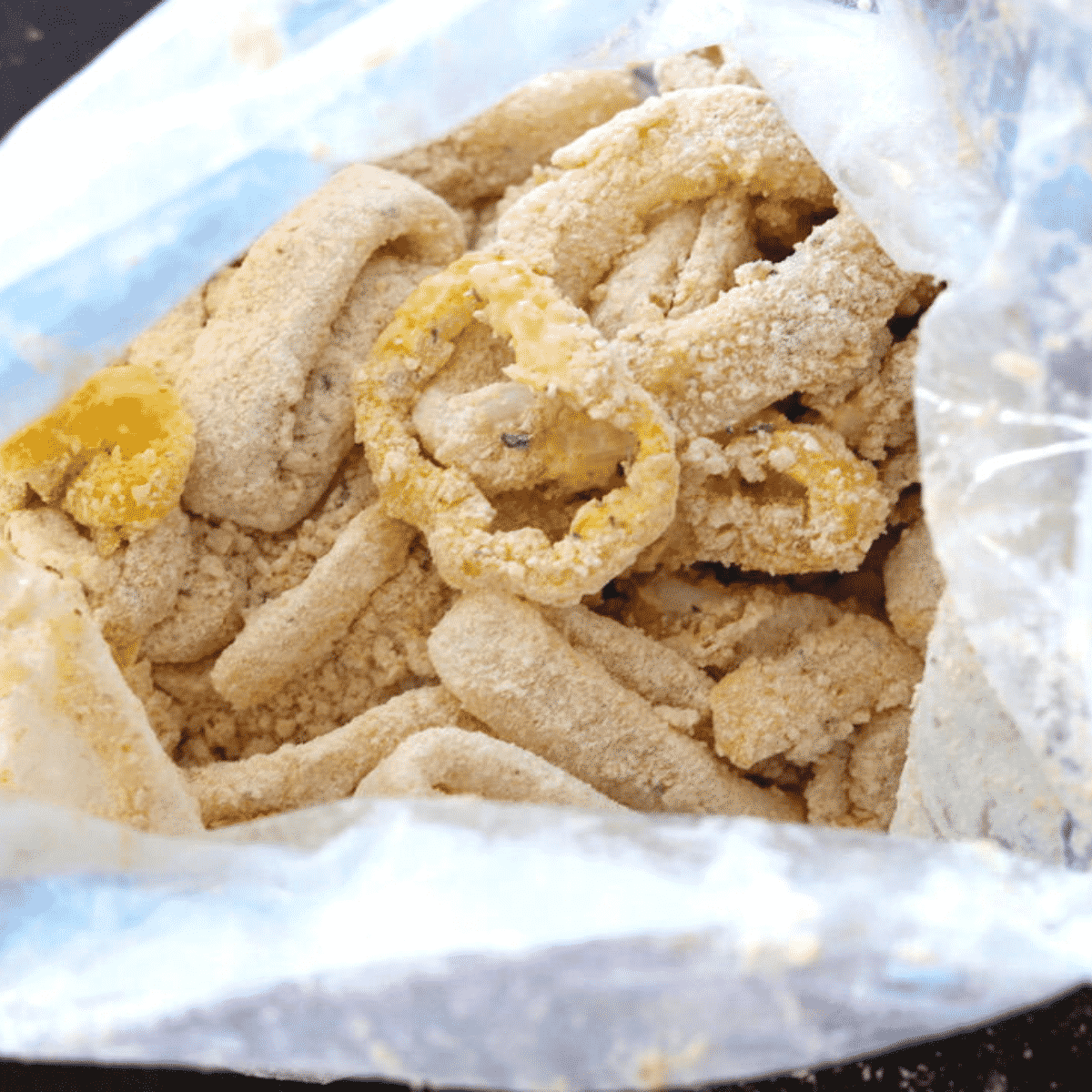 Can I make this recipe with frozen calamari?
Frozen, pre-breaded, uncooked rings can be air fried at 400°F for 8-9 minutes in the air fryer.
If you have frozen calamari, it is recommended to thaw overnight before air frying to make them easier to prepare in the batter.
How to pan-fry calamari
First, heat 2-3 inches of oil in a large pot to at least 375 degrees Fahrenheit. 
Batter the squid rings as usual, but cover and refrigerate for 30-40 minutes before frying in the pan.
Add a single layer of calamari rings to the frying pan.
Remove when golden brown, or after a few minutes.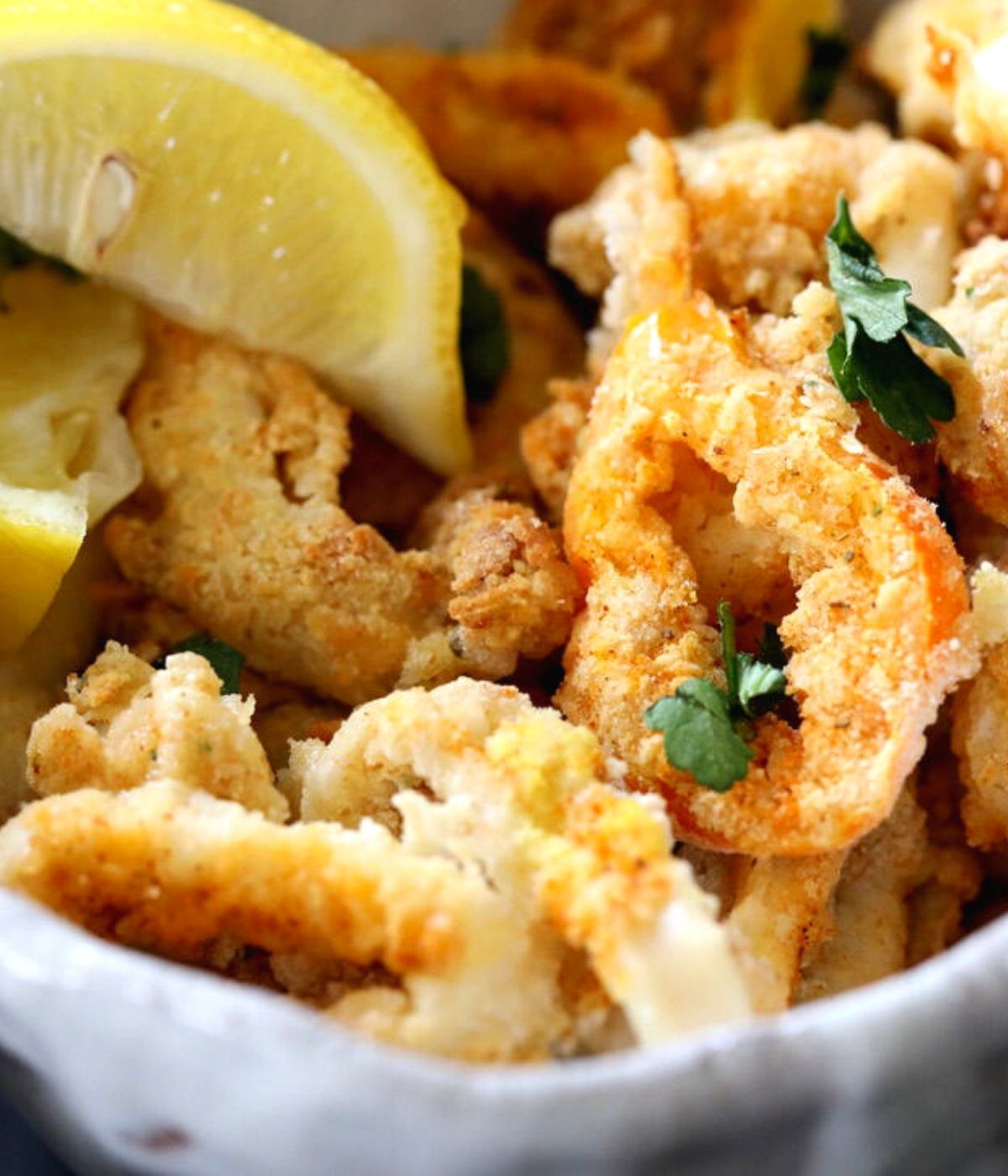 What side dishes go best with calamari?
Typically served as an appetizer, it's easy to make calamari into a complete dinner.
Some great sides for calamari include
Corn on the Cobb 
Soup
Salad 
What sauce should I serve with calamari?
Sweet chili sauce
Marinara sauce
Chipotle sauce
Tips for extra crispy air fryer calamari
If you like your calamari extra crisp, you can double batter them, then air fry.
You will also extend air frying by about a minute.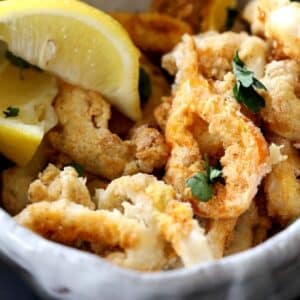 Instructions
Lay calamari on a paper towel to dry after rinsing.

Mix egg and cream in a bowl.

In a zipper bag or plate mix dry ingredients together.

Pour batter over calamari rings.

Add them to the bag a few at a time and shake (or dip into plate of breading).

Cook in the air fryer for approximately 13 minutes at 400°F or until golden and crisp.
Video
Nutrition
Calories:
333
kcal
|
Carbohydrates:
38
g
|
Protein:
15
g
|
Fat:
13
g
|
Saturated Fat:
7
g
|
Cholesterol:
173
mg
|
Sodium:
783
mg
|
Potassium:
245
mg
|
Fiber:
2
g
|
Sugar:
2
g
|
Vitamin A:
485
IU
|
Vitamin C:
3
mg
|
Calcium:
95
mg
|
Iron:
3
mg
BEST SIDES FOR CALAMARI…
MORE SEAFOOD RECIPES…