This easy-to-make recipe for country breakfast bacon gravy is perfect served with biscuits, home fries, bacon and eggs. This bacon gravy recipe is homemade and delicious.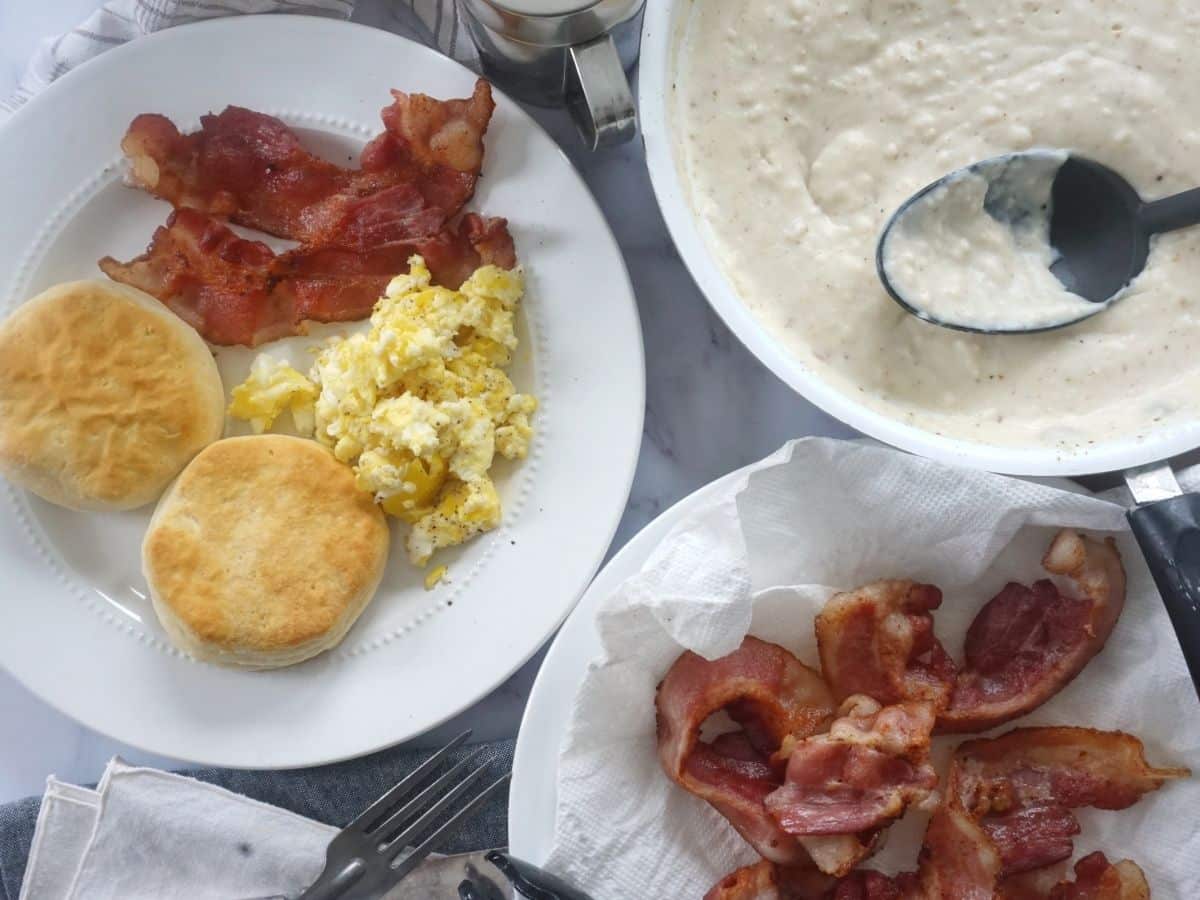 what is bacon gravy?
bacon gravy is a white, homestyle country gravy recipe
You may be wondering, can you make gravy with bacon? Learning how to make bacon gravy is easy and fun. Bacon gravy is a Southern delicacy, especially where I'm from. We especially love to serve it with biscuits or skillet potatoes.
For generations, Appalachian families have fried bacon, then used the "grease" to create homemade gravy. This milk gravy with bacon grease can also be made with sausage and black pepper, depending on your preference. Follow along to learn how to make white gravy.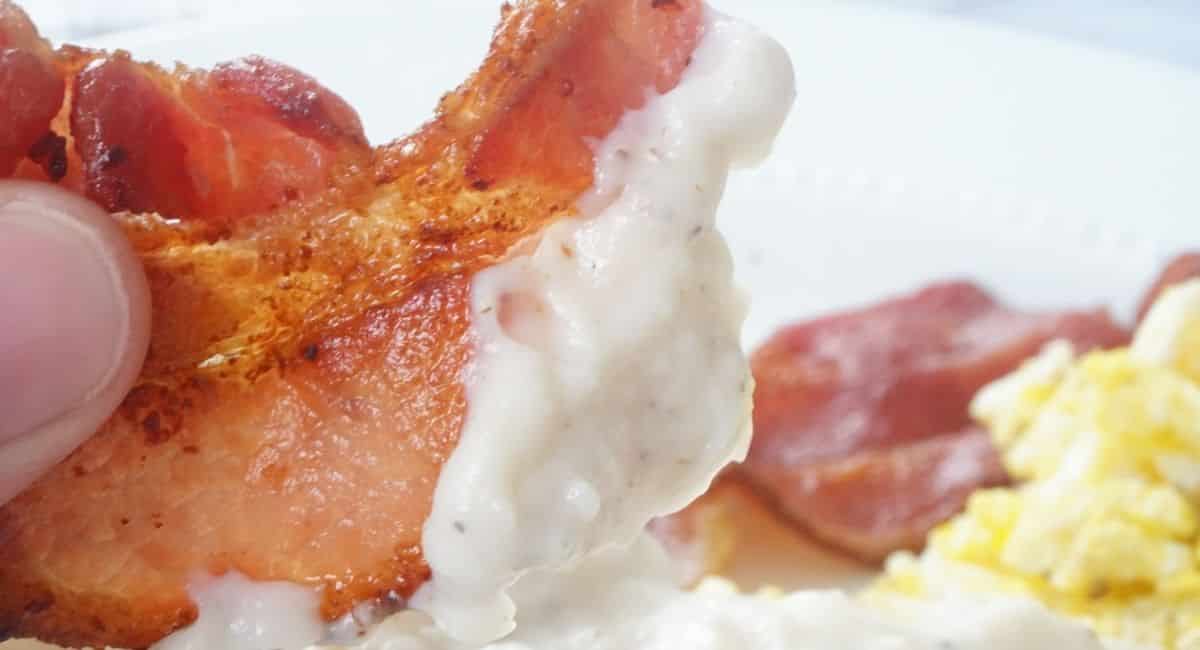 how to: white bacon gravy recipe with leftover grease
You can make homemade white breakfast gravy from bacon, flour and milk! Follow along to learn how to make breakfast gravy.
Fun fact: biscuits and gravy originated in Southern Appalachia in the late 1800's according to the Washington Post.
Sounds silly, but it's easy to make a nice country breakfast gravy with bacon grease. To make this easy white country gravy, we will make a roux.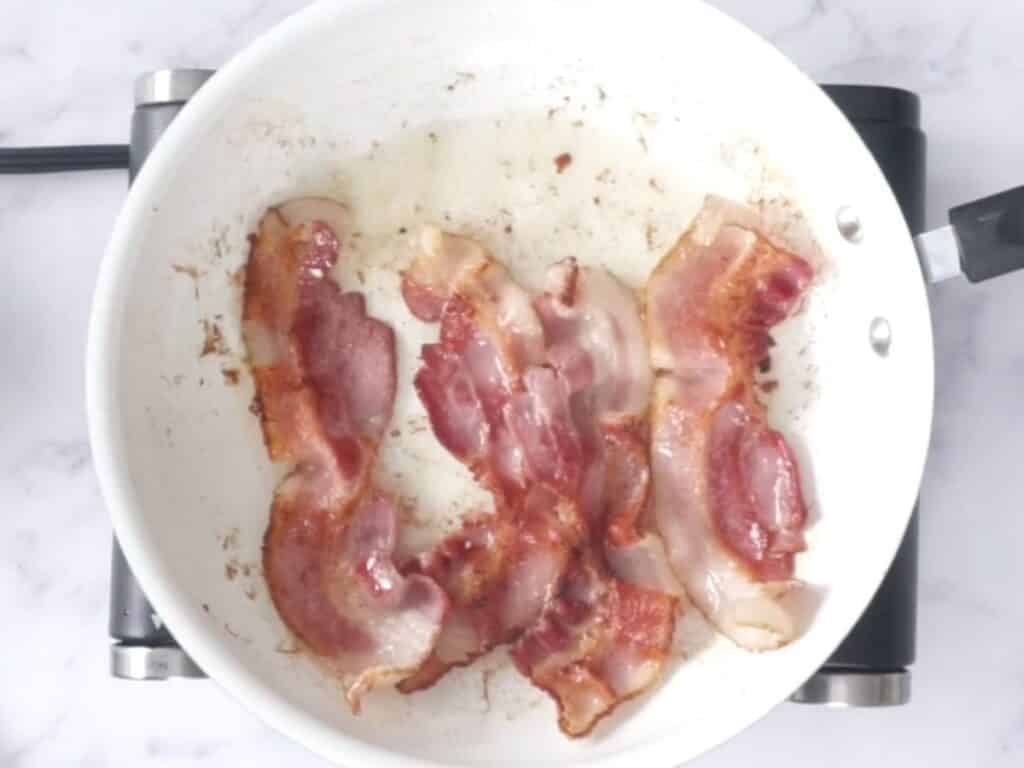 To make a roux for gravy, heat up a pan and add your favorite strips of bacon (make one entire package). I prefer just plain bacon for making the gravy and medium heat the entire time.
Then, move the crisp, fried bacon to a plate with a napkin (to catch extra grease).
Next, add in 1 or 2 tablespoons of self-rising flour regular flour to the pan. Whisk after each and repeat five times for a total of approximately 9 tablespoons of flour.
Finally, add in 1/4 cup of milk. Whisk. Repeat about 4 times or until gravy is at your preferred thickness.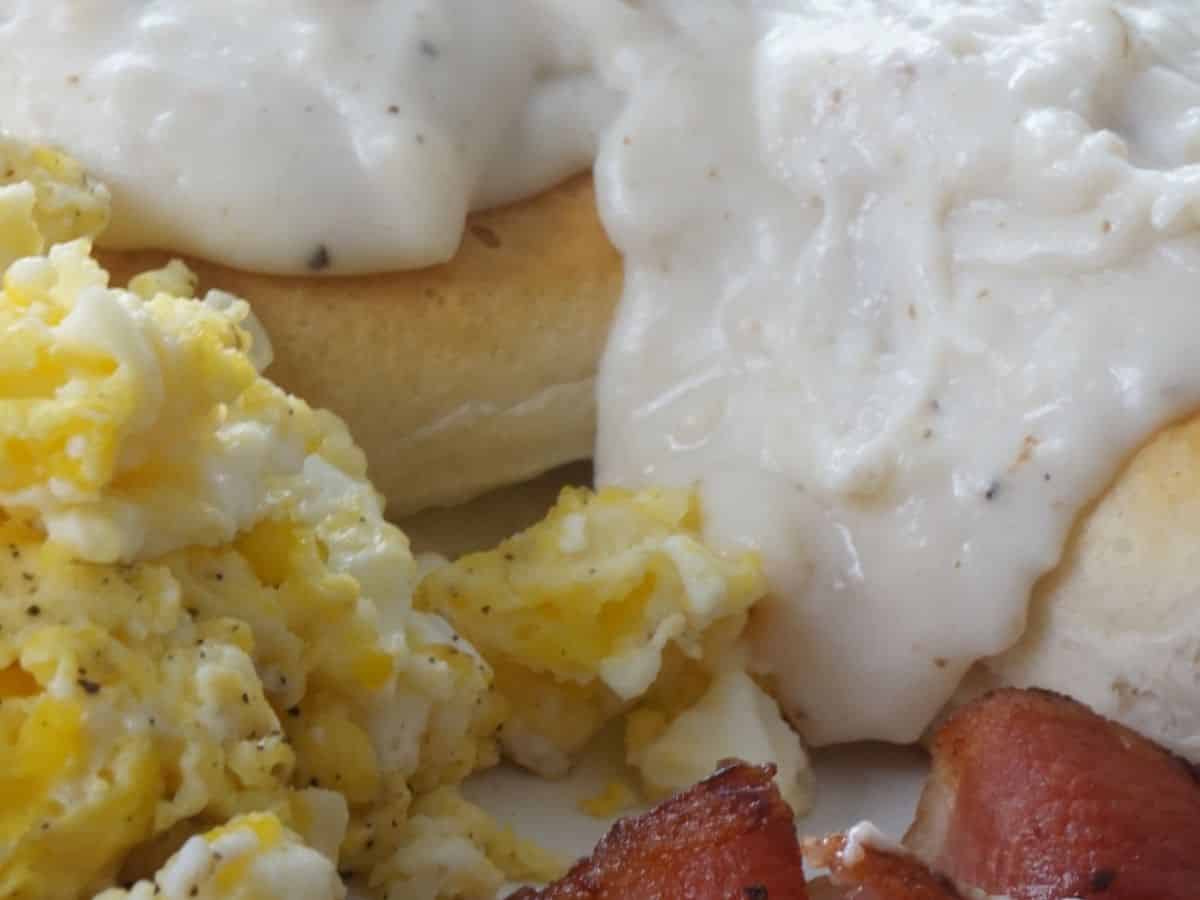 expert tips for making country gravy with bacon
Whisk and don't stop!
First, if you've never made homemade country breakfast gravy, you'll need to remember is to keep whisking each time you add a tablespoon of flour.
And, especially take note to keep whisking after each bit of milk is added.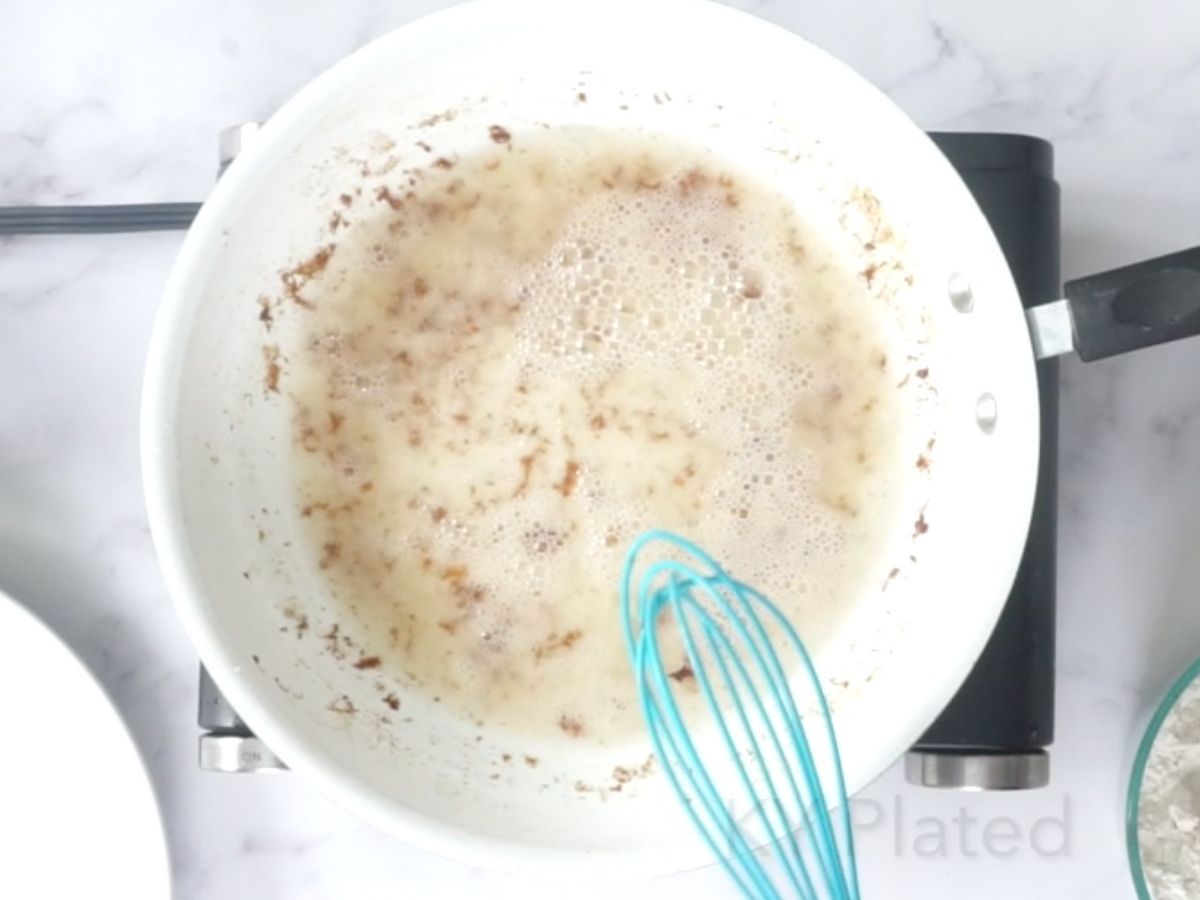 brown vs. white gravy
I like to add a bit more flour and milk to my gravy, but if you prefer a darker gravy, follow these tips:
To begin, fry your bacon until very crisp
Add 1 tablespoon of flour at a time for a max of 4-5 tablespoons. Allow more time for the flour-grease mixture to cook and get dark.
slowly add in 1/4 cup of milk.
Next, add in another 1/4 cup milk and repeat if too thick for your preference
storing leftover bacon gravy made with flour
I recommend eating this gravy within the first day or two of making. You may notice that the bacon fat (grease) will separate from the rest of the mixture.
Before reheating, give it a good stir and all is well.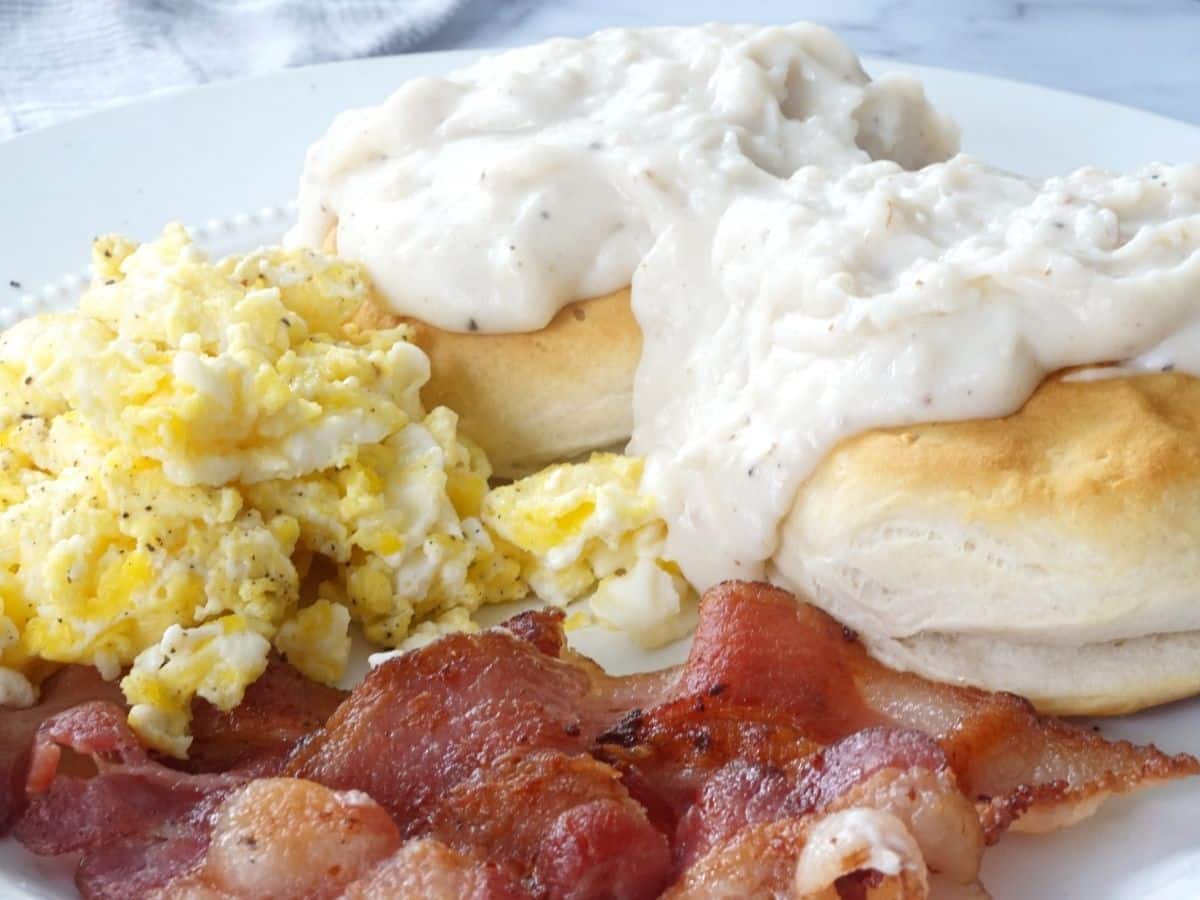 what to serve with bacon gravy
Usually, breakfast gravy is served over top of buttermilk biscuits or with jam/jelly.
However, you may serve with other country favorites, such as:
country steak
eggs, bacon, or home fries
with chicken, biscuits and shredded cheddar cheese
Breakfast Bacon Gravy (country style)
This filling and traditional country breakfast bacon gravy is perfect served over biscuits, with eggs and, of course, bacon grease!
Print
Pin
Rate
Ingredients
Instructions
On medium heat, fry bacon until crisp. Remove.

Add flour, whisking in 1 tbsp at a time.

Add milk, whisking in ¼ cup at a time. If too thick, add more milk until gravy reaches desired consistency.

Salt and pepper to taste.
Nutrition
Serving:
0.5
cup
|
Calories:
92
kcal
|
Carbohydrates:
15
g
|
Protein:
3
g
|
Fat:
2
g
|
Saturated Fat:
1
g
|
Cholesterol:
5
mg
|
Sodium:
1183
mg
|
Potassium:
83
mg
|
Fiber:
1
g
|
Sugar:
2
g
|
Vitamin A:
75
IU
|
Calcium:
56
mg
|
Iron:
1
mg
If you like country breakfast gravy, you'll love:
Southern Potato Soup
Southern Potato Soup made from scratch with flour, butter and chunky potatoes. The thickest, creamiest potato soup you'll ever taste!
Check out this recipe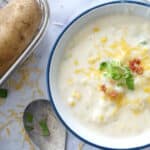 Instant Pot Venison Stew
Instant Pot venison stew is the perfect comfort food for those wintry days. Prep, pressure cook for two minutes and you're done!
Check out this recipe