Crazy for those streusel blueberry muffins at Starbucks? Well, these are even better, plus you can make a whole batch right at home.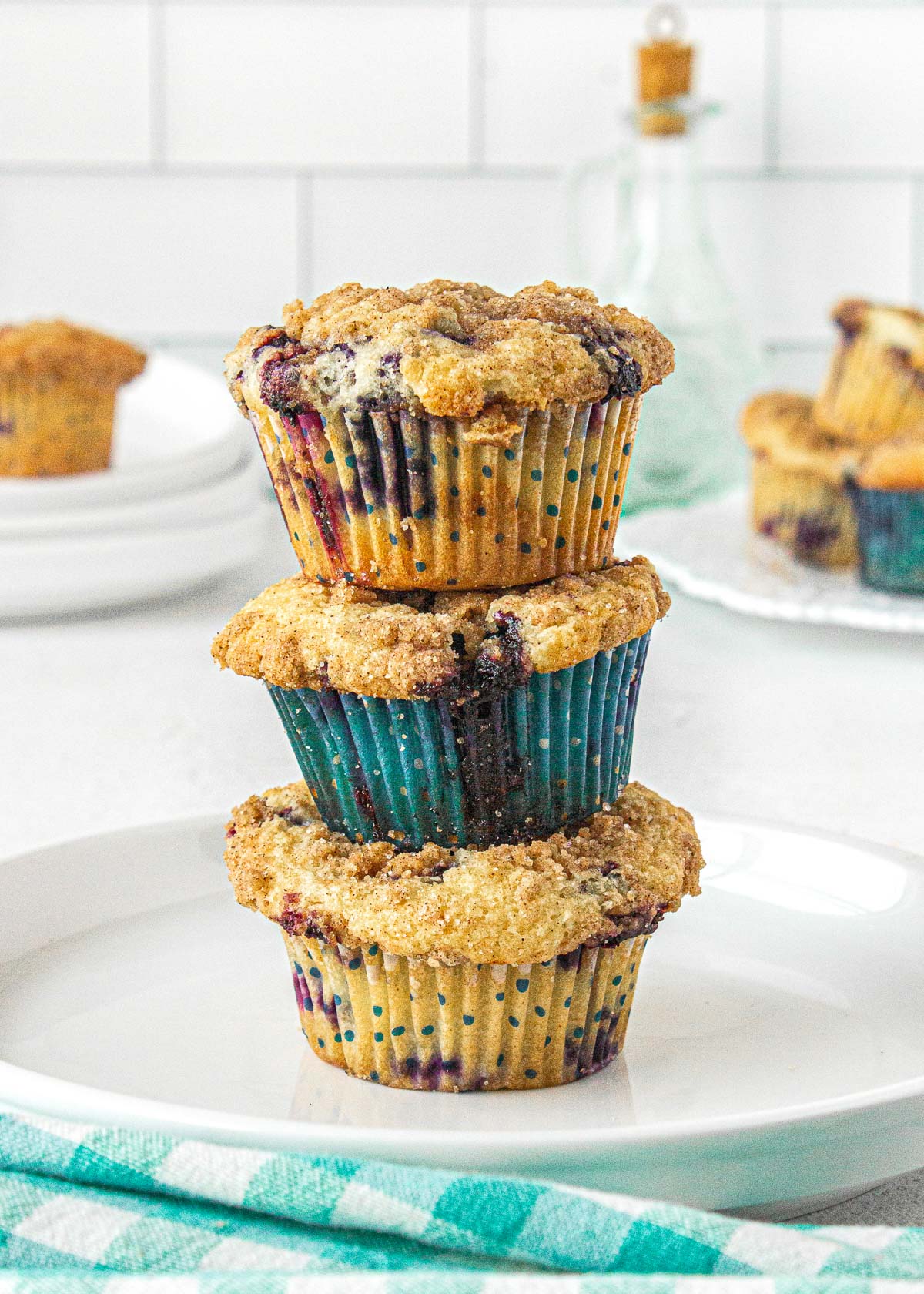 These Starbucks Copycat Blueberry Cinnamon Streusel Muffins are old-fashioned muffins that are tasteful and perfect for every occasion. The moist, fluffy, and tasteful blueberry muffins are super easy to make and are followed by a crumb topping recipe.
The topping ensures the muffins are crunchy from the top and moist from the inside. Make these muffins in advance and enjoy them for breakfast, snacking, or dessert.
ingredients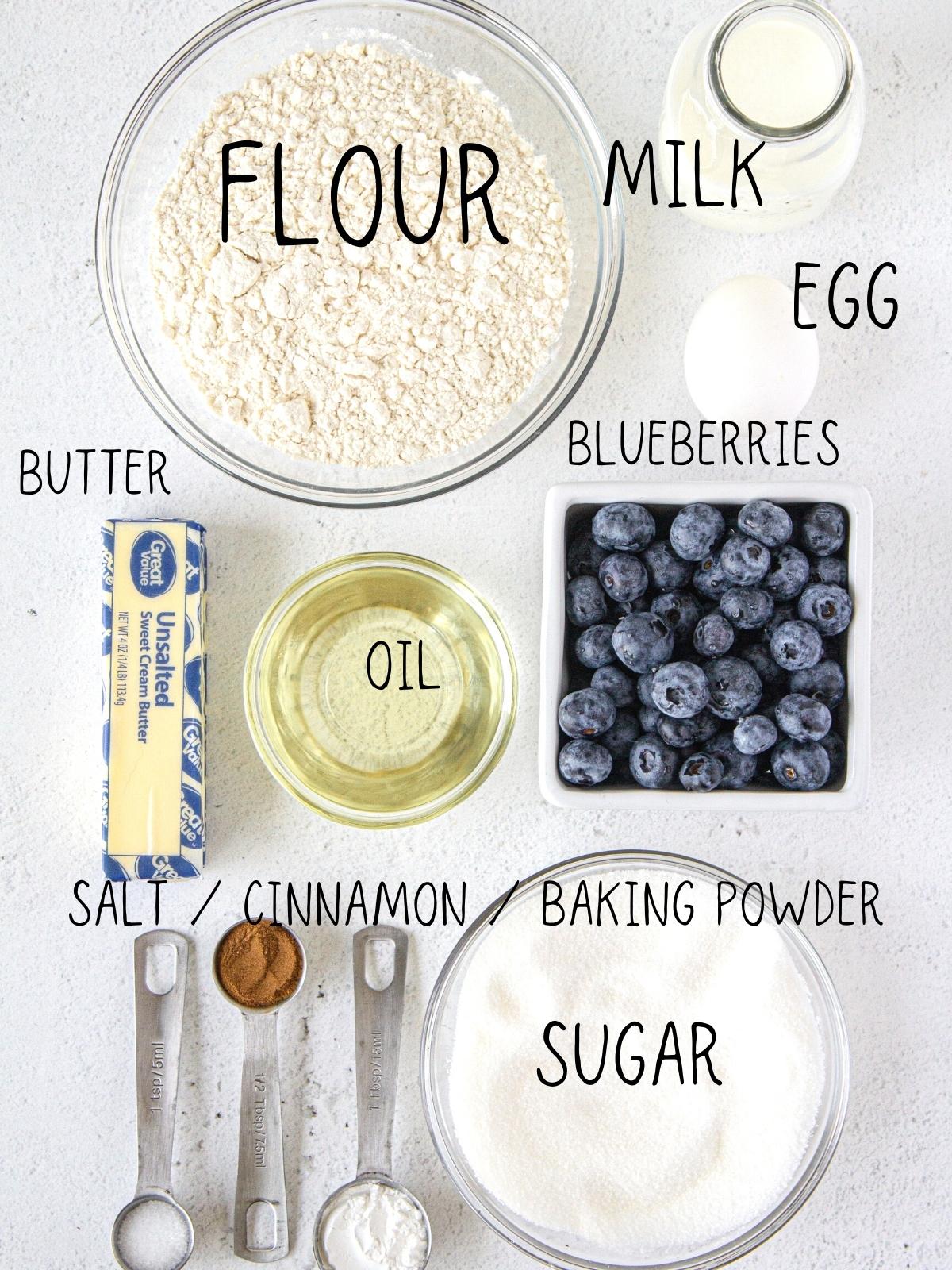 for the muffins
All-purpose flour: The main ingredient used for making muffins is the all-purpose flour. If you are making gluten-free muffins, use gluten-free all-purpose flour. Or you can use coconut flour or almond flour as well. Plus, you can also use whole wheat flour. Whatever you require, you can use ingredients accordingly.
White sugar: white granulated sugar adds sweetness to these muffins. If you want a caramel-like flavor, use light brown sugar. Or you can use coconut sugar for this purpose as well.
Baking powder: Baking powder is an essential baking ingredient that makes your Blueberry Streusel Muffins airy and light. Furthermore, it ensures the muffins rise perfectly well.
Vegetable oil: You can use any vegetable oil for this recipe. Canola oil or coconut oil works best for me.
Egg: Make sure you use a very large egg for this recipe. Eggs give the muffins a texture and make them fluffy.
Milk: Milk gives this mixture consistency. Plus, it also gives the muffins a fluffy texture.
Fresh blueberries: I prefer using fresh blueberries for these muffins. However, if you can't find fresh blueberries, you can use frozen blueberries as well. Make sure you thaw them first so that there is no additional moisture in them.
Salt: A dash of salt balances out the sweetness of the muffin and also elevates the flavors.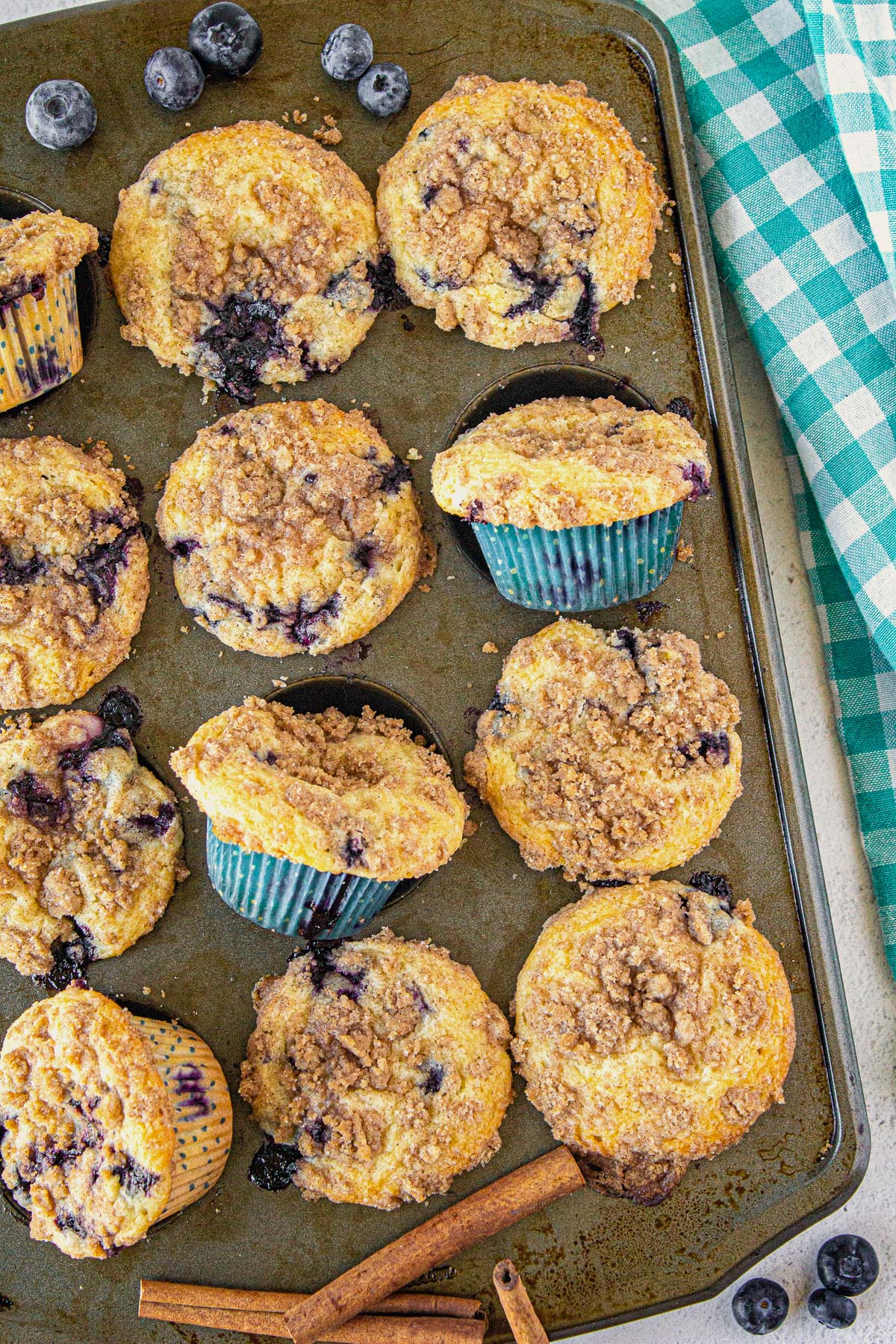 topping ingredients
All-purpose flour: The main ingredient used to make old-fashioned crumb muffins is all-purpose flour. As I have mentioned before, you can use gluten-free all-purpose for this recipe as well.
White sugar: Use white granulated sugar for the sweetness and texture of the crumb.
Butter: Use unsalted and cold butter for the topping. When baked, butter makes the crumb crispy and adds a buttery texture.
Ground Cinnamon: Cinnamon adds a heartwarming, rich, slightly sweet, and woodsy flavor to the topping. Its flavor and aroma make these muffins very comforting thing to enjoy.
muffin instructions
Follow these instructions for the fluffiest, cake-like muffins.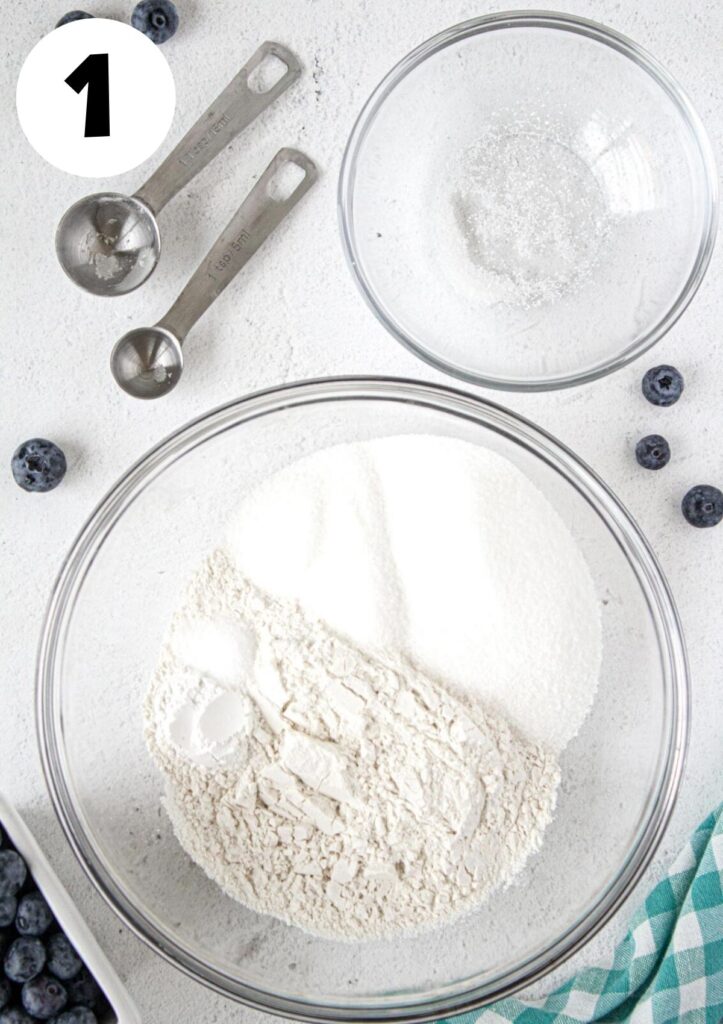 topping instructions
Follow these instructions for a perfectly crisp streusel topping.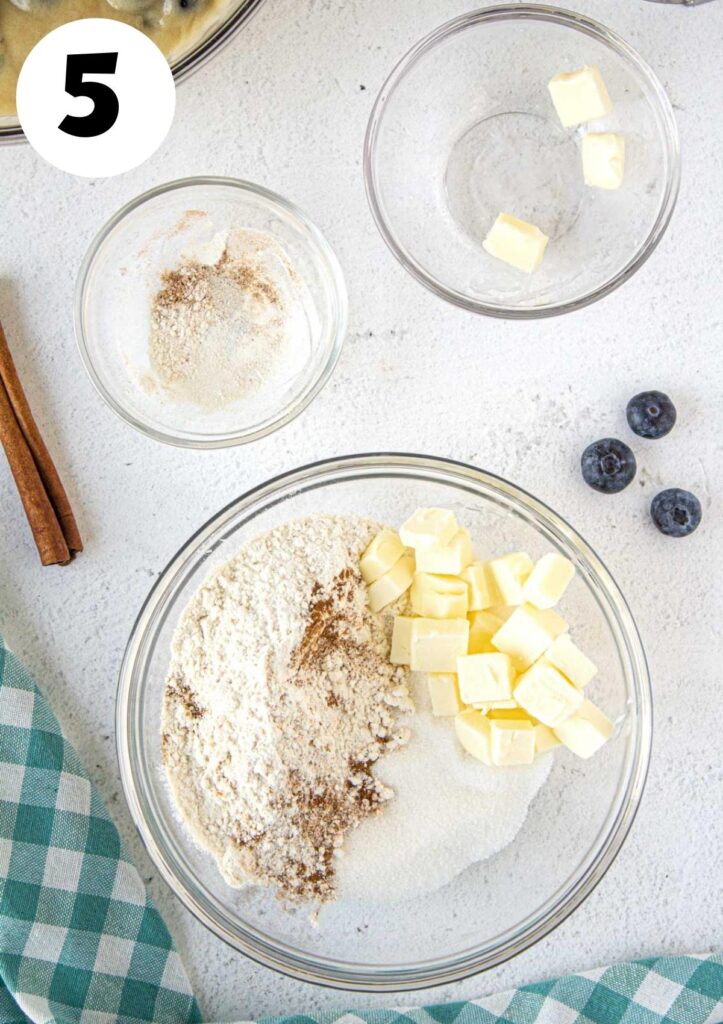 tips
Try these few tips to get perfectly baked old fashioned crumb muffins:
Replace milk with buttermilk as well. Buttermilk will make your muffins moister them milk.
Replace white sugar in toppings with brown sugar or coconut sugar as well.
Don't forget to grease the muffin tin with butter or cooking spray.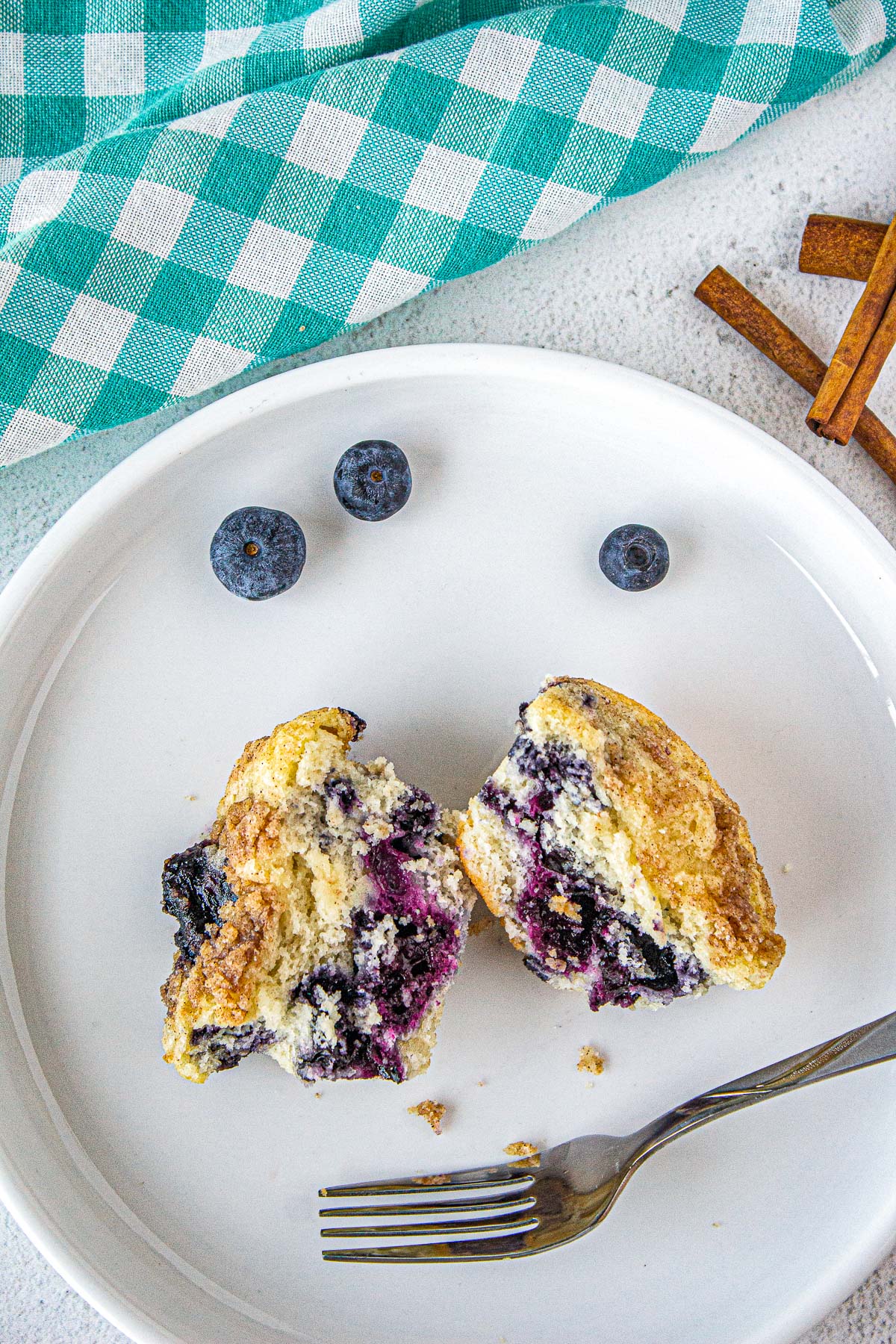 FAQs
how long will muffins keep?
You can store these muffins at room temperature in a cool, dry place, and they will stay fresh for 3 days. Moreover, you can place them in the refrigerator to extend their shelf life for up to a week. Because the topping will get soggy as you store them, you will have to reheat them in the oven for at least 10 minutes to get the crispiness back.
Moreover, you can also freeze these muffins. Once they are cool, wrap them in a heavy-duty aluminum foil and place them in a plastic zip-lock bag. Freeze for up to 2 months. Thaw, reheat, and enjoy!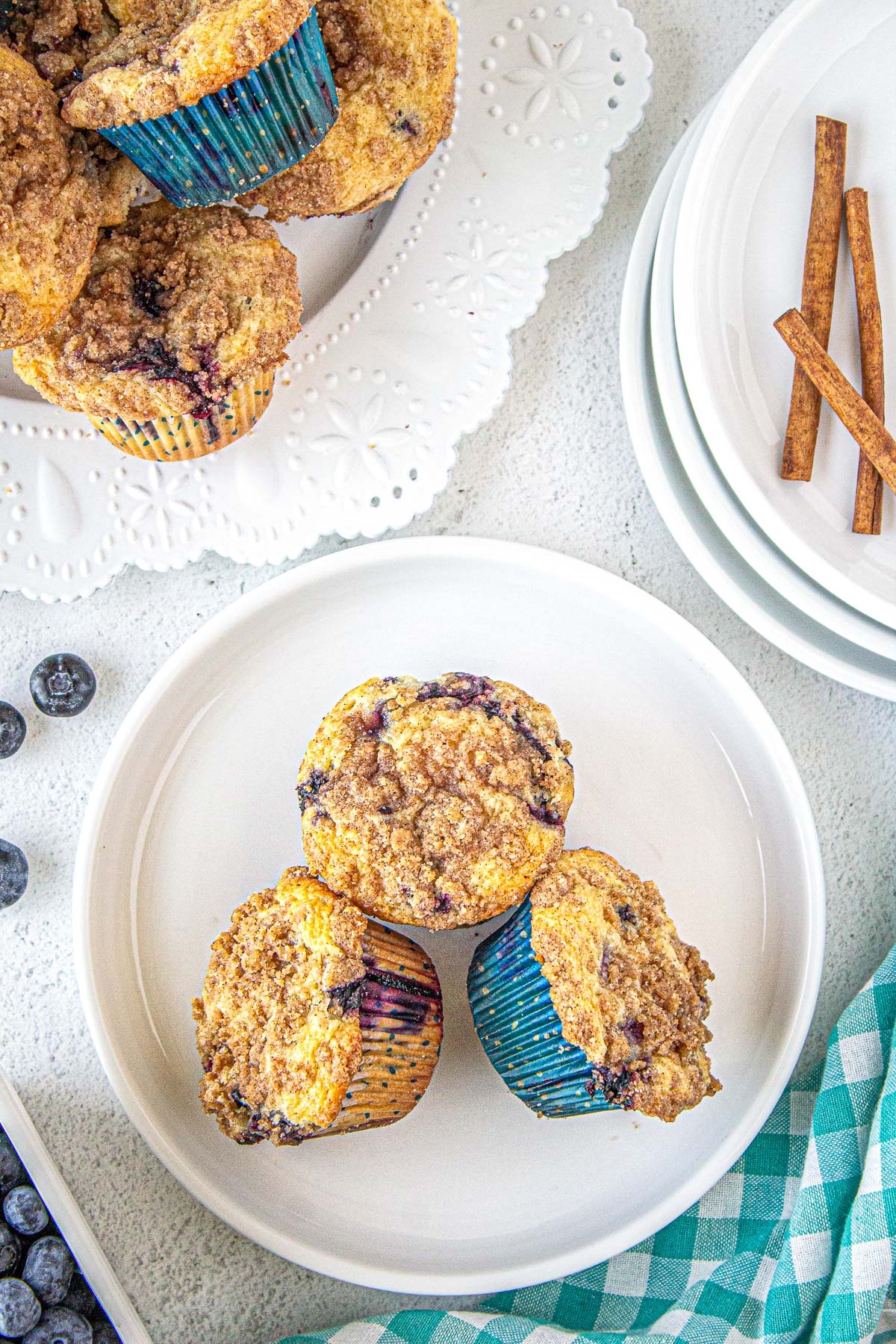 What can you use instead of a pastry cutter?
If you don't have a pastry cutter, no worries. You can use a fork to mix the topping ingredients. Although it will take a little more time and effort, it will work. If using a fork, make sure you cut the butter into small pieces for your ease.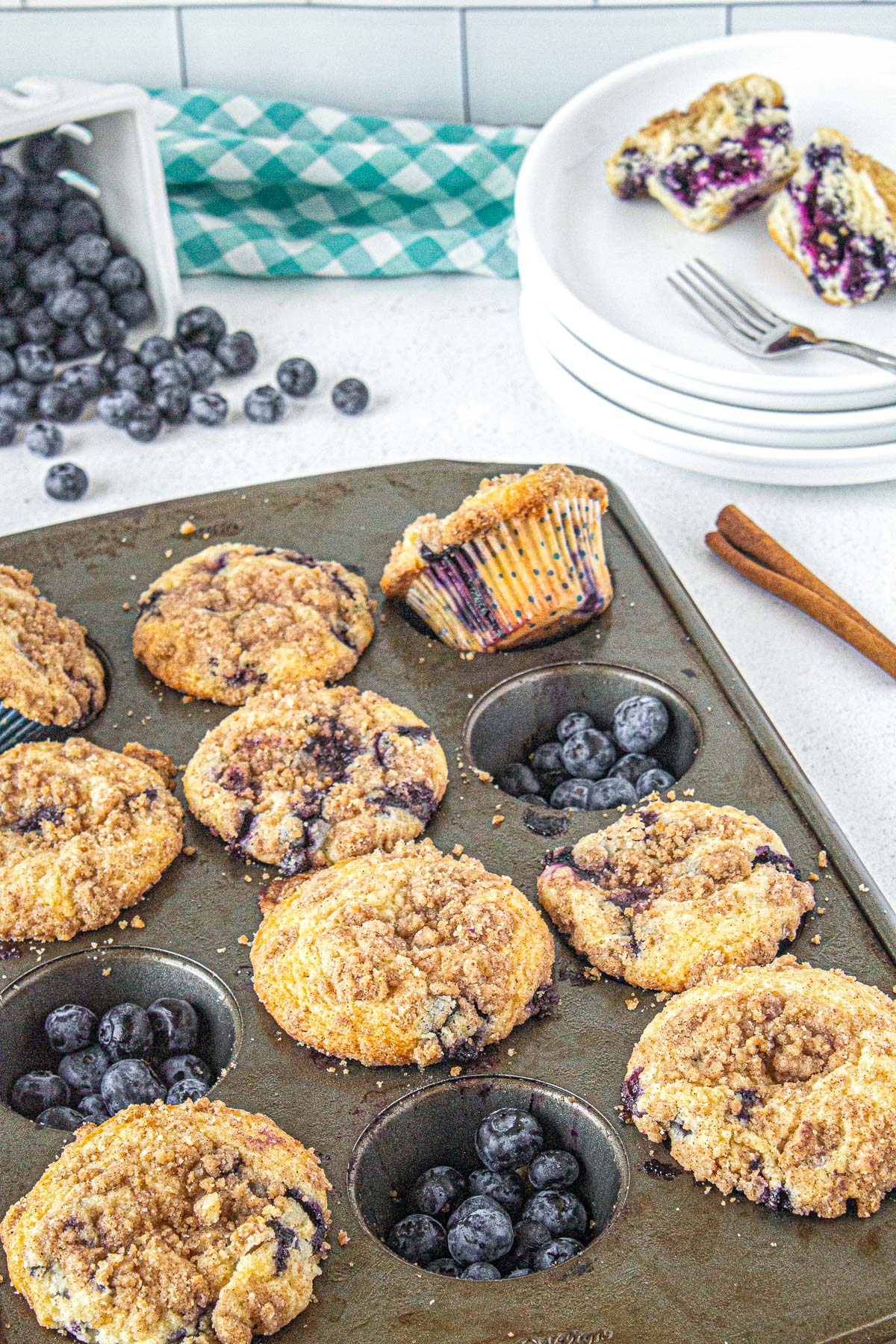 Can you make blueberry muffins without streusel topping?
Yes, you can definitely make his recipe without making a streusel topping. Simply skip making a crumble for topping and bake the muffins without anything on top. The muffins are moist, fluffy, and tasteful, even without a topping.
How to adjust the consistency of this muffin batter?
For best results, the batter should have a medium consistency, i.e., and it should neither be too thick nor too thin. If it is too thick, add more milk and adjust the consistency. If it is too thin, add more all-purpose flour.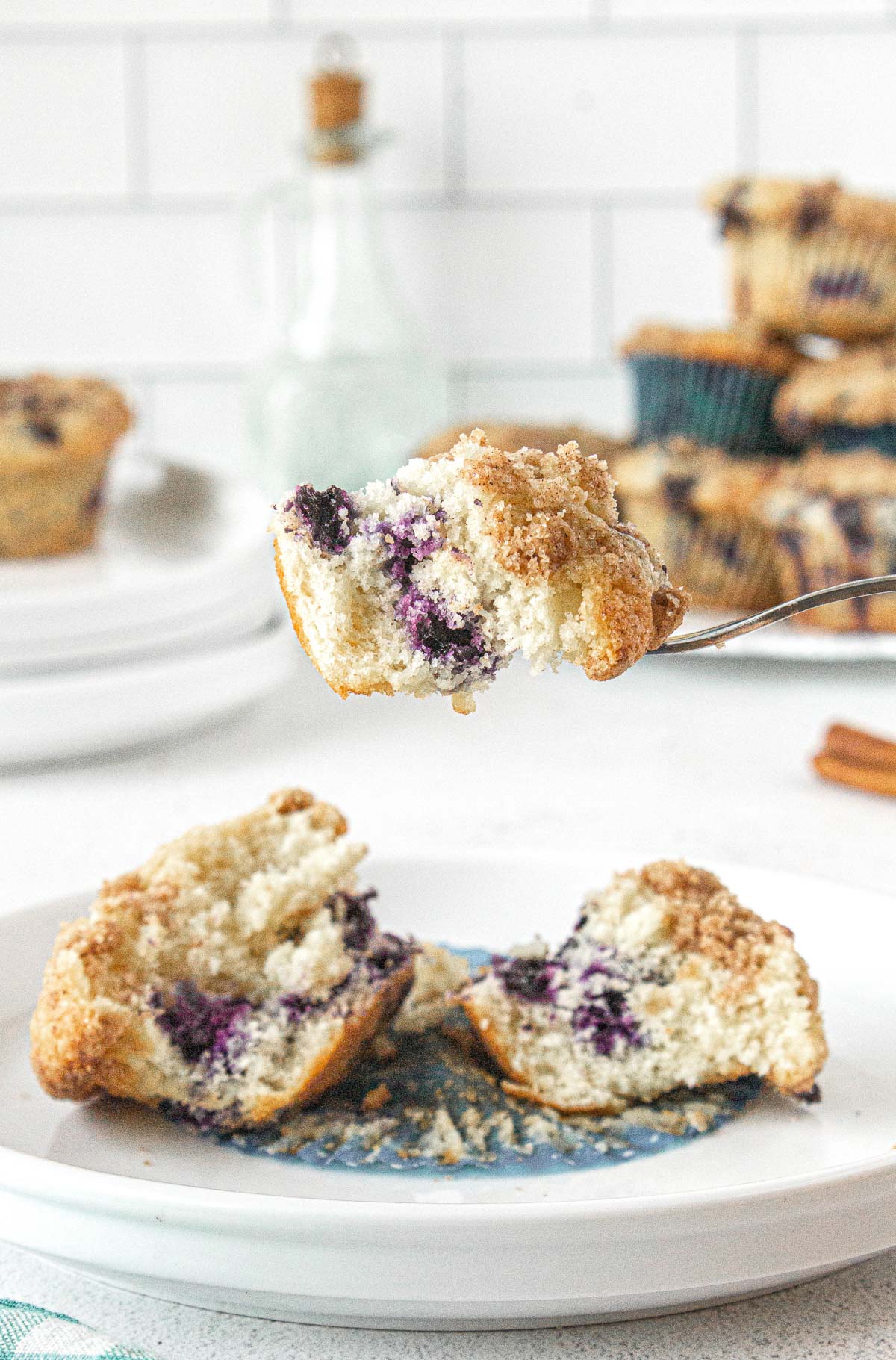 Can I replace baking soda with baking powder?
Baking soda is also widely used in baking. For the same purpose as baking powder serves. However, because baking soda is strong, if you are replacing it with baking powder, use ¼ tbsp of baking soda for 1 tbsp of baking powder.
what to serve with streusel muffins
Muffins go great with coffee, tea, or a tall glass of cold milk.
Copycat Starbucks Blueberry Muffins
Copycat Starbucks Blueberry Muffins with a cinnamon streusel topping.
Print
Pin
Rate
Instructions
Preheat oven to 400 degrees Fahrenheit (200 degrees C). Grease muffin pan or line with muffin liners.

In a large bowl, combine 2 ¼ c flour, 1 c sugar, salt, and baking powder. Mix well.

Add the oil, egg, and milk to the flour mixture. Stir until combined.

Gently fold in blueberries.

Fill muffin cups to the top.

Make the Streusel Topping: Add ¾ c sugar, ½ c flour, ¼ c cold, cubed butter, and ½ Tbsp ground cinnamon to a medium bowl. Use a pastry cutter to blend the ingredients together.

Generously sprinkle to topping over the muffins before baking.

Bake for 20- 25 minutes until an inserted toothpick comes out clean.
Notes
After they've cooled, these muffins can be frozen and stored for up to 2 months.

 

For an even more moist muffin, buttermilk can be used in place of milk.

 

The white sugar in the topping mix can be replaced with an equal amount of brown sugar.
Nutrition
Calories:
277
kcal
|
Carbohydrates:
55
g
|
Protein:
4
g
|
Fat:
5
g
|
Saturated Fat:
3
g
|
Polyunsaturated Fat:
1
g
|
Monounsaturated Fat:
1
g
|
Trans Fat:
1
g
|
Cholesterol:
25
mg
|
Sodium:
292
mg
|
Potassium:
72
mg
|
Fiber:
1
g
|
Sugar:
32
g
|
Vitamin A:
168
IU
|
Vitamin C:
2
mg
|
Calcium:
81
mg
|
Iron:
2
mg