Cream cheese corn casserole is a simple yet delicious casserole perfect for BBQ or holiday gatherings. It is rich, creamy, and has a distinct Mexican flair, thanks to the unique ingredients. Also known as corn pudding, this casserole is rich, creamy, tasteful, and easy to make.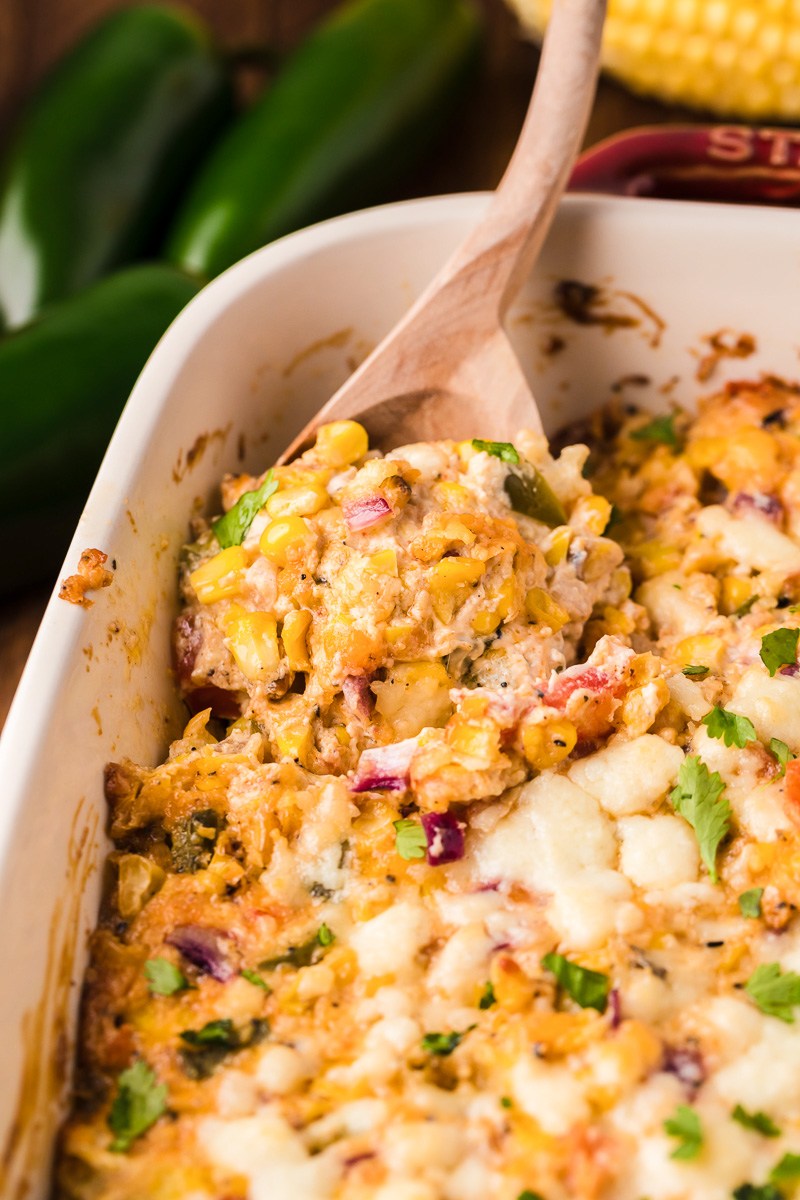 I always bring this Mexican Corn Casserole to taco nights or summer BBQs because it's the perfect Mexican-inspired side dish.
street corn casserole ingredients
Here is a list of all the ingredients you will need to make this delicious casserole:
Corn: The main ingredient used in this casserole recipe is corn. I have used whole corn ears for this recipe. That's because I have grilled them to give a smoky flavor. If you can't find corn ears, you can use canned or frozen kernels. Corn is not only healthy but also has a slightly sweet and savory flavor.
Olive oil: I have used olive oil for this recipe, but you can use canola oil or any other vegetable oil.
Mayonnaise: Use full-fat mayonnaise to make this casserole rich and creamy.
Cream cheese: Cream cheese is a creamy and rich cheese. It has a slightly savory and cheesy flavor which makes this casserole tasteful.
Sour cream: Sour cream is known for its creamy texture and tart flavor. Its acidity makes it a good ingredient in this casserole.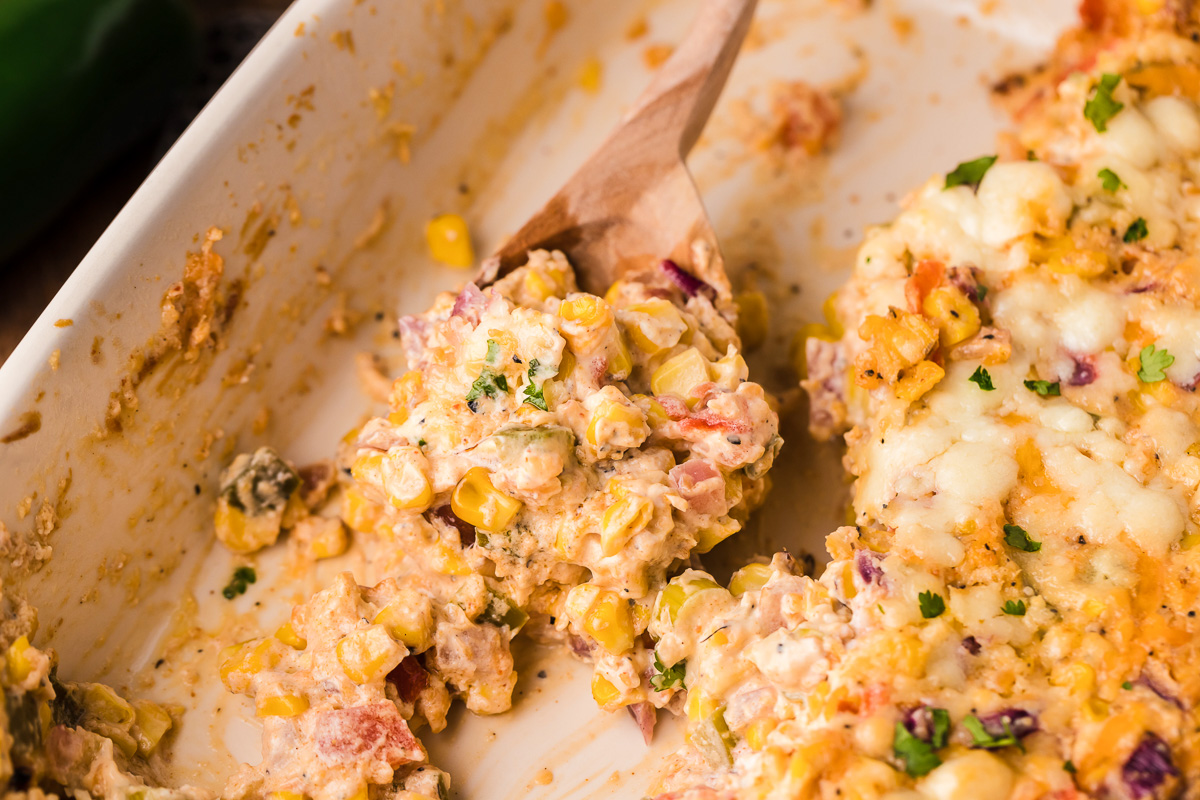 Ancho chili powder: This is a special chili powder widely used in Mexican cuisine. It has a smoky flavor with mild heat. Moreover, it also has a slight sweetness to it. If you don't have ancho chili powder, use paprika. Its flavor is the next best thing.
Hot sauce: Hot sauce adds a kick to this casserole. It adds heat and tanginess. You can use any brand of hot sauce.
Jalapeño: Jalapeno has a slightly sour and spicy flavor. Make sure you deseed them before using them.
Roma tomatoes: Roma tomatoes or regular tomatoes are juicy, plump, and refreshing. They add so much flavor to this casserole.
Red onion: Red onion also adds a savory flavor to this recipe. If you don't have red onions, you can use white onions as well.
Scallions: Also known as green onions, they have an onion-y and grassy flavor.
Cheddar cheese: Cheddar cheese adds an earthy, sharp cheesy flavor to any dish. Its cheesiness makes it a perfect candidate for casseroles.
Cotija cheese: Cotija cheese is Mexican cheese made from cow's milk. It is known for its salty flavor. Cotija cheese has a mild cheesy and umami flavor.
Cilantro: Cilantro has a citrusy and tangy flavor. You can use parsley instead of cilantro as well.
Black Pepper: Add black pepper to spice up the casserole.
Salt: Season the casserole with salt as per your liking.
instructions
Before you begin, pre-heat the oven to 350 F, cook corn, remove kernels and set aside. You may also use drained, canned corn for a recipe shortcut.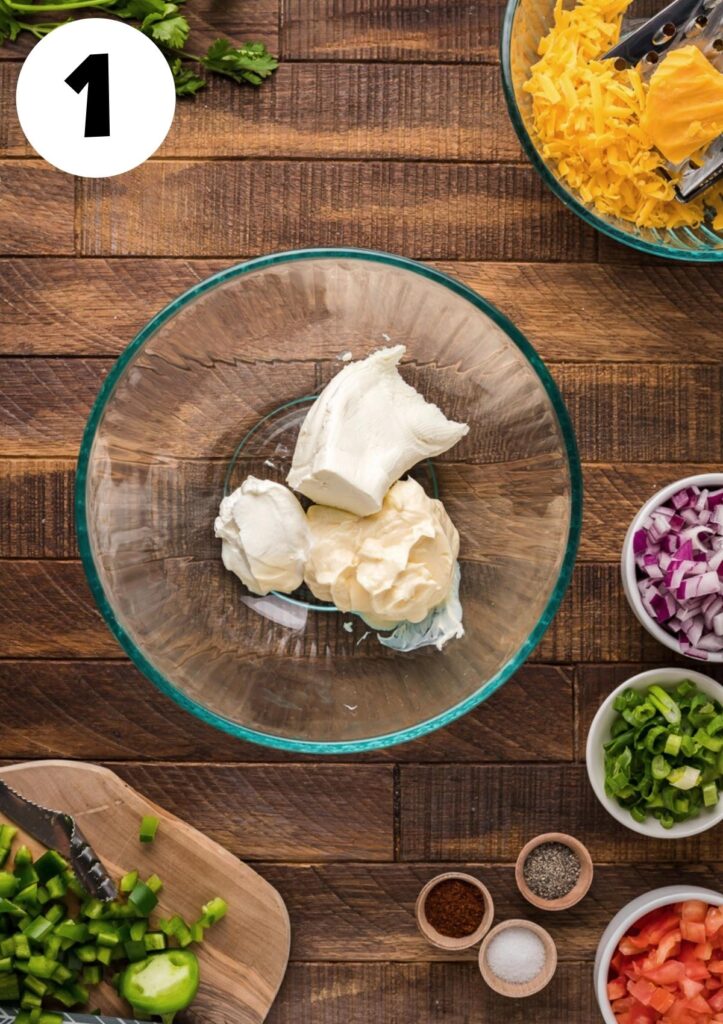 Substitution ideas
If you can't find a few ingredients I have used in this casserole, don't worry. You can substitute them and still enjoy a tasteful casserole. Here are a few substitution ideas that work great with this recipe:
Ancho chili powder: Although ancho chili powder is easy to find, not many use this chili powder in their cooking. So, if you haven't heard of this type of chili powder before, no worries. You can use paprika powder, Chipotle Powder, or simple red chili powder instead.
Cream cheese: Cream cheese has a rich and creamy texture. However, not everyone appreciates its flavor. If you want to replace it with something else, I recommend you use Cottage cheese, Ricotta, or Greek yogurt.
Cotija cheese: Cotija cheese is yet another Mexican ingredient that is not widely known. Although you can find it at Mexican stores, if you are looking for a substitute, you can use feta cheese or Goat cheese.
Vegetables: You can add more vegetables to this casserole, like broccoli, bell peppers, peas, etc., to make it more tasteful wholesome, and add more color to it.
Meat: Craving meat in your casserole? Well, you can add chopped bacon, leftover turkey, or chicken to this casserole as well. It will only make things better.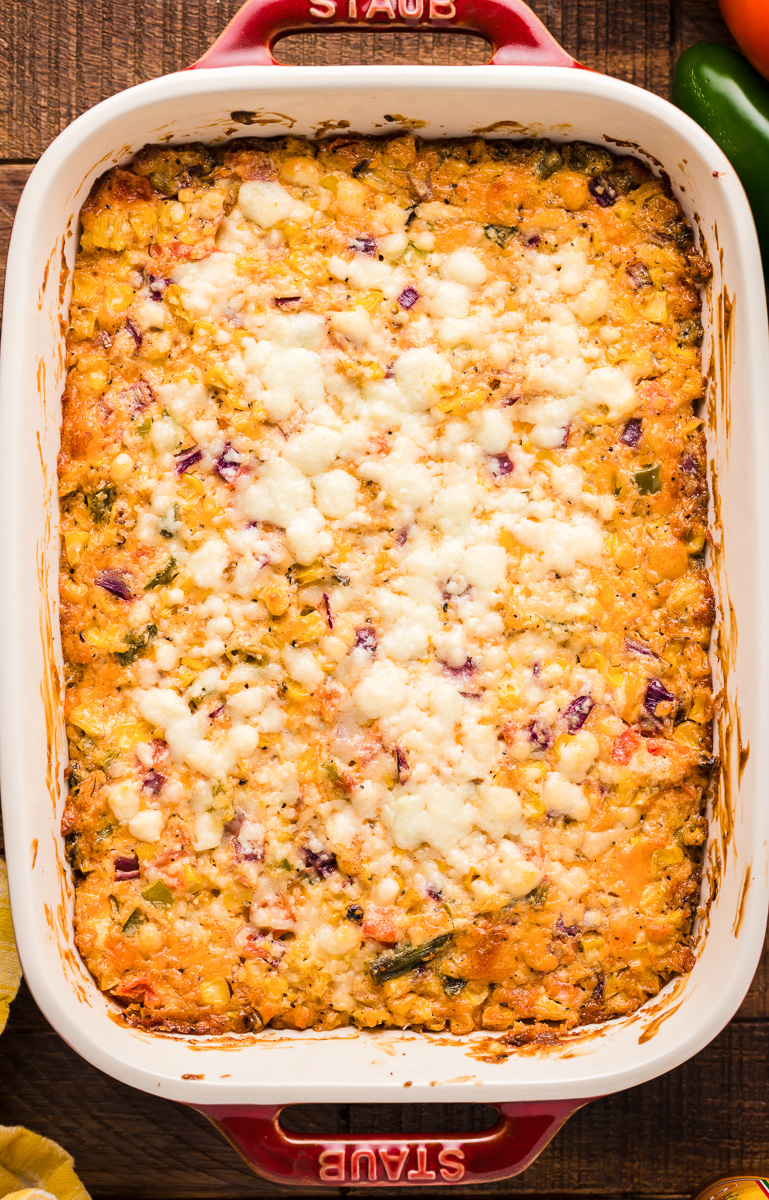 How to store Cream cheese corn casserole?
Cream cheese corn casserole is the perfect dish for making ahead or storing. You can store it before or after cooking which makes it super convenient and a perfect choice when you are feeding many mouths.
Storing before cooking: Once you have compiled the casserole, you can cover the dish with plastic wrap and refrigerate it for a day.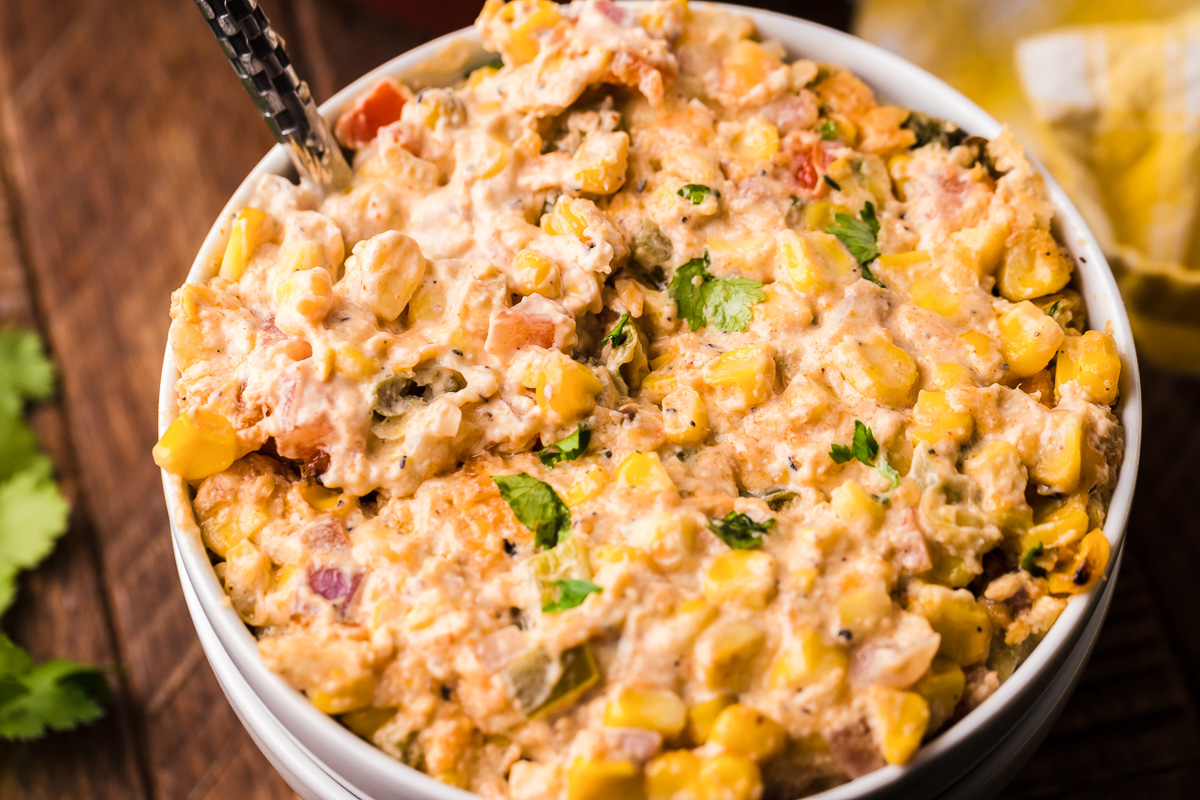 To freeze, simply cover it with aluminum foil and freeze. It will last for up to three months. You can cook it by thawing it overnight and then baking it in the oven.
Storing after cooking: Once the casserole cools down, you can store the leftover by covering the dish with plastic wrap and placing it in the refrigerator for up to 3 days.
Or you can cover it with aluminum foil and freeze it for up to 3 months. Reheat it in the oven until it is warm and bubbly.
what to serve with corn casserole
Serve corn casserole with chicken, beef, pork or an appetizer.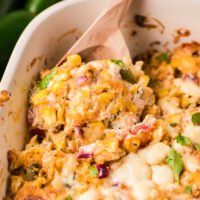 Mexican Corn Casserole
A flavorful corn casserole with onion, pepper, cotija cheese, and cream cheese. Serve at your next BBQ or potluck.
Print
Pin
Rate
Ingredients
4

ears of corn

2

tbsp

extra virgin olive oil

½

cup

mayonnaise

6

oz

cream cheese

¼

cup

sour cream

1

tsp

chili powder

1

tsp

salt

½

tsp

pepper

1

tsp

hot sauce

1

jalapeño

diced and de-seeded

¼

cup

red onion

diced

¼

cup

scallions

diced

4

oz

cheddar cheese

shredded

¼

cup

cotija cheese

crumbled

1

tbsp

cilantro

chopped
Instructions
Preheat the oven to 350*. Preheat a grill pan over high heat. 

Brush corn with olive oil then season with a pinch of salt. Add corn to the hot grill pan and cook for 2-3 min per side to evenly cook. Remove the corn from the pan and use a knife to shave the kernels off of the cob. (you may also use canned corn)

Meanwhile combine Mayo, cream cheese, sour cream, ancho chili powder, salt, pepper, and hot sauce in a mixing bowl. Whisk until smooth. 

Add corn, jalapeños, tomatoes, red onion, scallions, and cheddar cheese to the bowl and toss until coated. 

Lightly spray a 9×13" casserole dish with non stick cooking spray 

Add the creamy corn to the casserole dish and cover with foil. Place into the oven on the center rack. Bake for 20 minutes. 

Remove the foil and add ½ the cotija cheese. Place back into the oven and bake for 15 more minutes. 

Garnish with cilantro and remaining cotija cheese and enjoy!  
Notes
substitutions
use canned corn for quick prep time
mix and match peppers, onions, etc. to your preference
leftovers
store in the fridge for up to 3 days
Nutrition
Calories:
328
kcal
|
Carbohydrates:
11
g
|
Protein:
7
g
|
Fat:
29
g
|
Saturated Fat:
11
g
|
Polyunsaturated Fat:
7
g
|
Monounsaturated Fat:
9
g
|
Trans Fat:
1
g
|
Cholesterol:
50
mg
|
Sodium:
620
mg
|
Potassium:
199
mg
|
Fiber:
1
g
|
Sugar:
4
g
|
Vitamin A:
696
IU
|
Vitamin C:
4
mg
|
Calcium:
158
mg
|
Iron:
1
mg
more Mexican recipes to love…